XVIII Winter Meeting on Geometry, Mechanics and Control Theory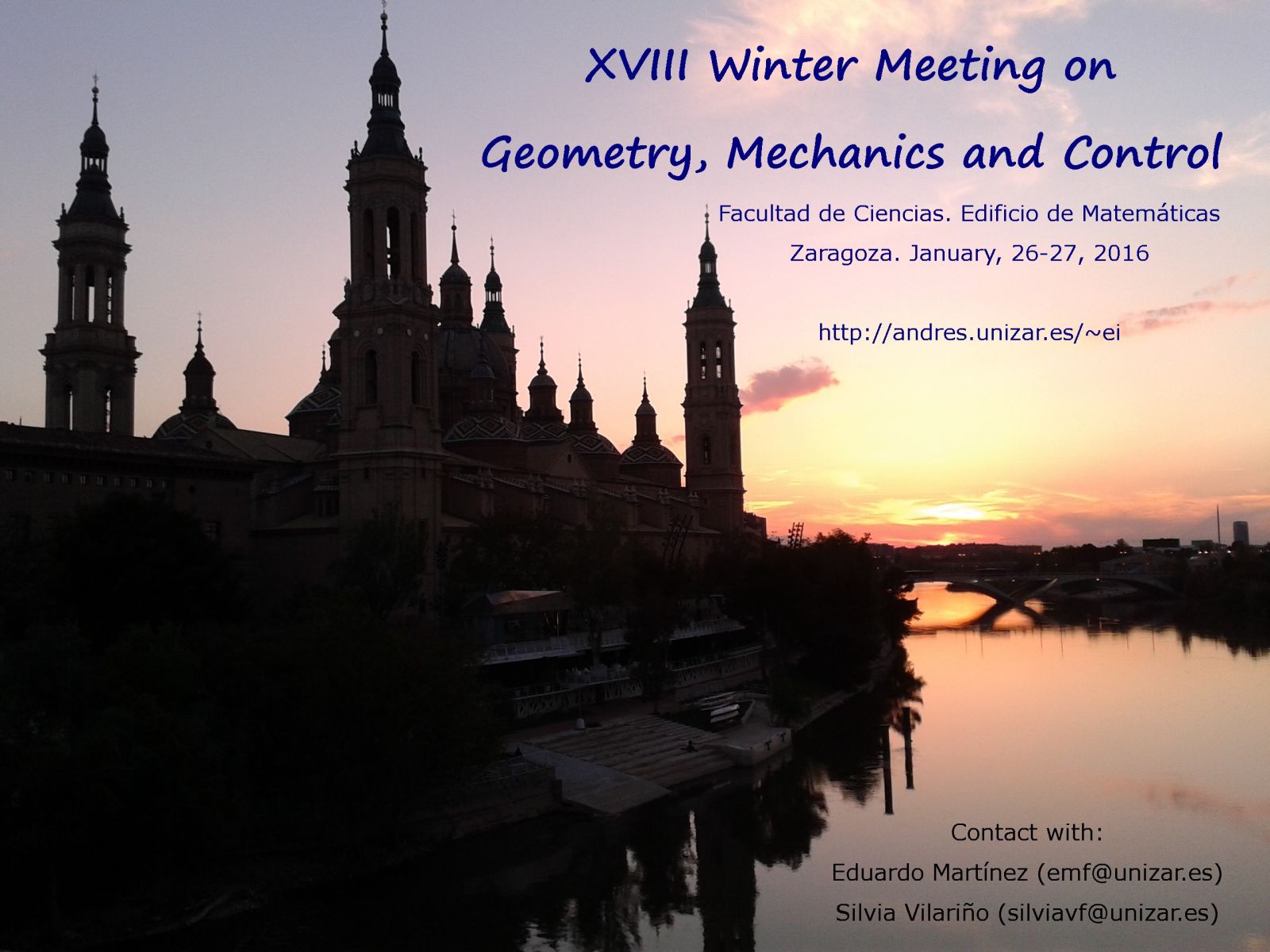 idate:
Tuesday, 26 January, 2016
edate:
Wednesday, 27 January, 2016
Place:
Aula 8. Facultad de Ciencias. Edificio de Matemáticas. Universidad de Zaragoza
URL:
http://andres.unizar.es/~ei/2016/index.html
Commitee:
Eduardo Martínez (Universidad de Zaragoza)
Silvia Vilariño (Centro Universitario de la Defensa de Zaragoza)
Schedule:
The provisional schedule can be viewed at this link
Registration:
If you are interested in attending this meeting send an email to silviavf(at)unizar.es
Lodging reservation:
In the following map we can see the situation of some hotels in the city.
For booking accommodation, you can send an email to silviavf(at)unizar.es with the following information
Single/double room:
Check-in date:
Check-out date:
Indicate if you have a preference to share the room:
Participants:
| | | |
| --- | --- | --- |
| Ángel | Ballesteros | Universidad de Burgos |
| María | Barbero | Instituto de Ciencias Matemáticas |
| Alfonso | Blasco | Universidad de Burgos |
| Manuel | de León | Instituto de Ciencias Matemáticas |
| Marta | Farré | Instituto de Ciencias Matemáticas |
| Victor | Fernández | Instituto de Ciencias Matemáticas |
| José | Fernández Cariñena | Universidad de Zaragoza |
| Eduardo | Fernández Saiz | Universidad de Burgos |
| Francisco José | Herranz Zorrilla | Universidad de Burgos |
| Juan | Margalef | Universidad Carlos III de Madrid |
| Juan Carlos | Marrero | Universidad de La Laguna |
| David | Martín de Diego | Instituto de Ciencias Matemáticas |
| Eduardo | Martínez | Universidad de Zaragoza |
| Miguel | Muñoz Lecanda | Universidad Politécnica de Cataluña |
| Edith | Padrón | Universidad de La Laguna |
| Pedro Daniel | Prieto Martinez | Universidad Politécnica de Cataluña |
| Xavi | Rivas | Universidad Politécnica de Cataluña |
| Narciso | Román-Roy | Universidad Politécnica de Cataluña |
| Modesto | Salgado | Universidad de Santiago de Compostela |
| Cristina | Sardón | Universidad de Salamanca |
| Rodrigo | Takuro Sato Martín de Almagro | Instituto de Ciencias Matemáticas |
| Rubén | Vigara | Centro Universitario de la Defensa de Zaragoza |
| Silvia | Vilariño | Centro Universitario de la Defensa de Zaragoza |